Course details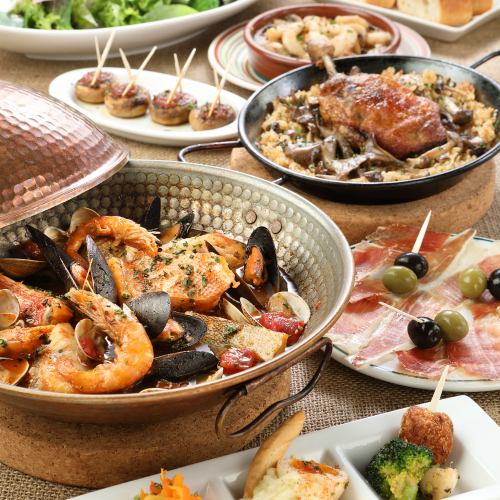 【Women's Association Long Plan】 4h with all you can drink 4980 yen
By using a coupon4980 yen
Tax included for one person
7items

4

-

10persons

All-you-can-drink available

It is a glass replacement system.The last order of all-you-can-drink is 30 minutes ago.
It is a profitable plan with a rich coloring for the girls society and with a 4h drink all-you-can-da ※ Please make reservation reception on Wednesday by Sunday 3 days in advance.This course can not be booked on Saturdays.
Course menu
【1】 seasonal hors d'oeuvre 4 kinds
【2】 Today's salad
【3】 today's ahijo bucket
【4】 Onion and homemade bacon's coca (Spanish style pizza)
【5】 cataplana of pork and clams (Portuguese steamed cooker)
【6】 risotto
【7】 Assorted 2 kinds of dessert
4h all-you-can-drink
· Sparkling wine (Cava)
· Red wine · White wine
· Draft beer · Highball
· Mimosa · White Mimosa · Kitty · Operator
· Shandigafu
· Classic cocktail (gin base · vodka base · cassis base · ram base)
· Non alcoholic cocktail (cassis, peach)
· Cola · Ginger ale
· Orange · Grapefruit
·Oolong Tea
※ All you can drink is necessary for every group's order.
※ It is a glass replacement system.Please drink it before ordering additional order.
The last order of all - you - can - drink is 30 minutes before.I'd like a glass of one for one person.
All-you-can-drink menu
·sparkling wine
·Red wine
·White wine
·draft beer
·Highball
· Sparkling wine base cocktail
· Mimosa, white mimosa, keel
· Wine base cocktail
· Operator, Kitty
· Shandigafu
· Beer + ginger ale
· Gin base cocktail
· Split by soda, orange, grapefruit, cola, ginger ale
· Vodka base cocktail
· Split by soda, orange, grapefruit, cola, ginger ale
· Cassis base cocktail
· Split by soda, orange, grapefruit, cola, ginger ale
· Rum base cocktail
· Split by soda, orange, grapefruit, cola, ginger ale
·Non-alcoholic cocktails
· Cassis soda, cassis orange, cassis oolong, cassis grapefruit, Peach fizz, peach oolong
·Soft drink
· Coke, ginger ale, oolong tea, orange juice, grapefruit juice, carbonated water
Reservation deadline

Two days before 22 o'clock before the desired store date
Available days for reservation

Monday, Wednesday, Thursday, Sunday and holidays
2018/11/10 update